The other morning as I scanned the headlines on various internet news sites, I came across this:
http://www.usatoday.com/story/news/nation/2013/02/03/little-house-books-scarlet-fever/1880397/
"Doctors Explore Medical Mystery in Little House Books."
The Laura Ingalls Wilder (LIW) geek in me began mentally jumping up and down. Something LIW-related is making mainstream headlines? How cool is that!?
The real Mary Ingalls, college years
Let me back up a bit. Yes, I am a LIW geek. All my life I've loved the Little House books, even re-read them as an adult on a regular basis. I read biographies and essays about her real life, and belong to various online LIW communities that are devoted to discussing, analyzing, and nit-picking over everything to do with the books and the author's real life.
The real Laura Ingalls, around age 17
*Please note that I have not mentioned anything about the television show,
Little House on the Prairie
.....nor will I ever. Enough said. Ahem.*
So naturally, when I saw a news headline regarding her sister, Mary Ingalls, I was thrilled.
Basically, a med school student who read the books growing up became curious about what caused Mary's blindness. If you've read the books you'll automatically say, "That's easy, scarlet fever caused it!"
Well, not really. Those of us in the LIW community have known for years that scarlet fever was not to blame....basically because Laura herself, in her unpublished memoir Pioneer Girl, said so. In that memoir, she said the doctors at the time diagnosed it as "brain fever" and that it had a long name she could no longer recall. "Brain fever" was a catch all term in those days (circa 1879) used to define spinal meningitis.
Why then, did Laura say it was scarlet fever in the Little House books?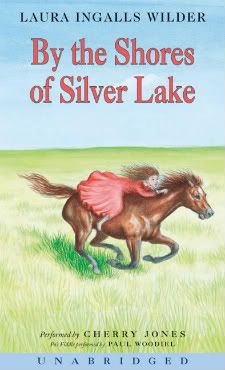 The book where Mary goes blind from "scarlet fever"
William Anderson, long-time LIW biographer and researcher, thinks she used scarlet fever as a literary device, since it is an illness readers of historical fiction are familiar with and readily associate with dire seriousness.
Carrie, Mary, and Laura as children. There is HUGE debate in the LIW community on whether this photo was taken pre-or-post blindness for Mary.
Back to the article, this med student began researching everything she could find about Mary, using the unpublished memoir and actual local newspaper stories from the time to study the symptoms available to us, and determined that the most probable cause of her blindness was
meningoencephalitis
.
Meningoencephalitis is a "cousin" to meningitis....so the doctors back then were sort of right with their call, and
meningoencephalitis
fits the "long word Laura could no longer remember as an adult." It's nice to have a real bonafide diagnosis, finally, after all these years of speculation. Well, as bonafide as we can get 134 years after the fact.
Mary went on to the Iowa College For The Blind in Vinton, Iowa. You can read about her years there
here
. It's a fascinating read.....and no, Mary never married, you lovers of the TV show. :)
If you're interested in learning more about the real family behind the books, check out these sites:
http://frontiergirl.proboards.com/
http://beyondlittlehouse.com/
https://www.facebook.com/pioneergirl
http://discoverlaura.org/
http://www.trundlebedtales.com/