It's my wedding anniversary today!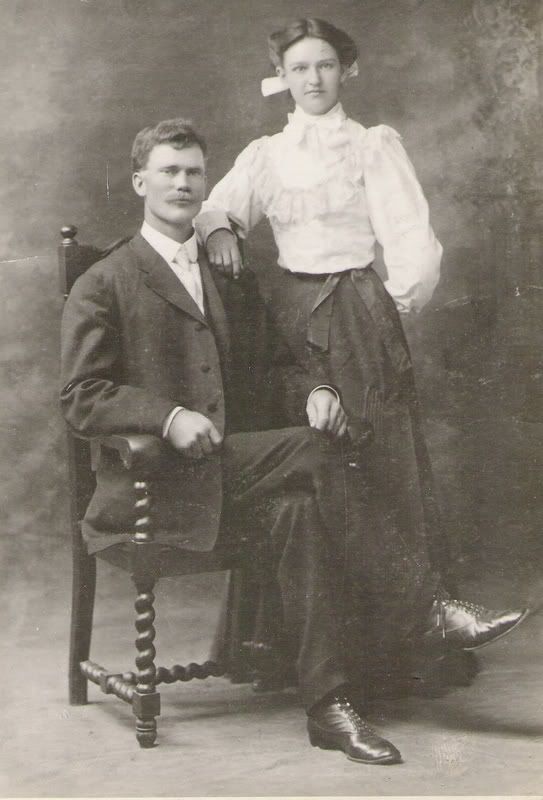 This is my grandparent's wedding photo from 1907. Cool huh?
Husband and I have been married now for nine years. The time has flown by in a blink of an eye. Slow down life, slow down......!
We went to Las Vegas to get married, sort of a "planned" elopement. It was my second marriage, and I just didn't want to go through all of the fru-fru stuff again with the dress, decorations, etc.
This isn't us, just a random photo from flickr!
We stayed at the Excalibur Casino and Hotel, which is right across the street from New York New York and the MGM Grand.
No, we didn't go through the drive-thru wedding chapel, nor were we married by Elvis (although in hindsight that would have been kinda fun, lol!). I booked a wedding package online that included the service, a limo ride from our hotel to the chapel and back again, and a bottle of champagne.
It's cheap, but this has been "our" champagne ever since!
The service was simple and lasted only 6 minutes, as our wedding video can attest. It was just us, the pastor and the photographer, outside in a gazebo. It was perfect!
Afterwards, we had a lavish dinner at the MGM Grand at "21"....a reproduction of the famous "21 Club" restaurant in New York. After dinner, we saw our first Vegas show, "FX". The run at that time was starring Rick Springfield, but wouldn't you know it, the night we went he was sick and his understudy was filling in. Despite that, it was spectacular.
Also during our stay in Vegas we got to visit Fremont Street (the original "strip"), the Star Trek Experience (which has since closed I think), and saw the Excalibur's show "Tournament of Kings" (if you've ever been to a "Medieval Times" restaurant, that's exactly what it's like). All in all it was a great trip, wedding and honeymoon all rolled into one.
How are we celebrating tonight? Nothing lavish, just a meal out with my parents, if I can figure out a restaurant that has something allowable on my diet!