A belated Happy Mother's Day to all of you mothers out there, I hope you had a fabulous day!
I was inspired by Jessica at Chronically Vintage, who recently posted a photo tribute to "mom" on her blog, to blog about a woman who I admire very much, my grandmother. She had 13 children, of whom my dad is the youngest.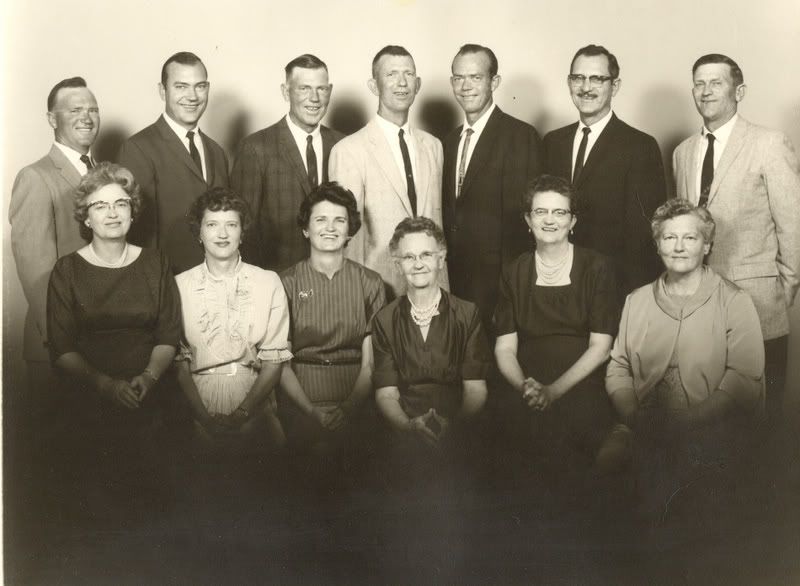 This was taken in the early 1960's, my dad is standing in the back row, second from the left. In the middle, sitting in the front row third from the right, is his mother, my grandmother, Ethel, whose
1907 wedding photo
I featured in my recent anniversary blog. His dad passed away in 1945 after a long battle with cancer.
You only count 12 children in the photo, you say? You would be correct; my grandmother's first child, Zelma, died when she was only a year old, and the rest of the 12 above followed afterwards. I always say my dad is the youngest of 13 rather than 12 though, because I think it's important to remember little Zelma....she counts too, even though she was taken from us so young.
Sadly, my dad, and his sister Lela (front row, third from the left) are the only ones in that photo still living. But I have such fond memories of all my aunts and uncles...I only wish I could have gotten to know them better as an adult, being better able to appreciate such things more now.
My grandmother weathered some very hard times. When she and my grandfather were first married, they were reasonably well off as they settled down to farm in central Nebraska, as can be evidenced by the fact that the first seven children born all had formal studio portrait photographs taken (an expense poorer families couldn't make), such as this of little Zelma....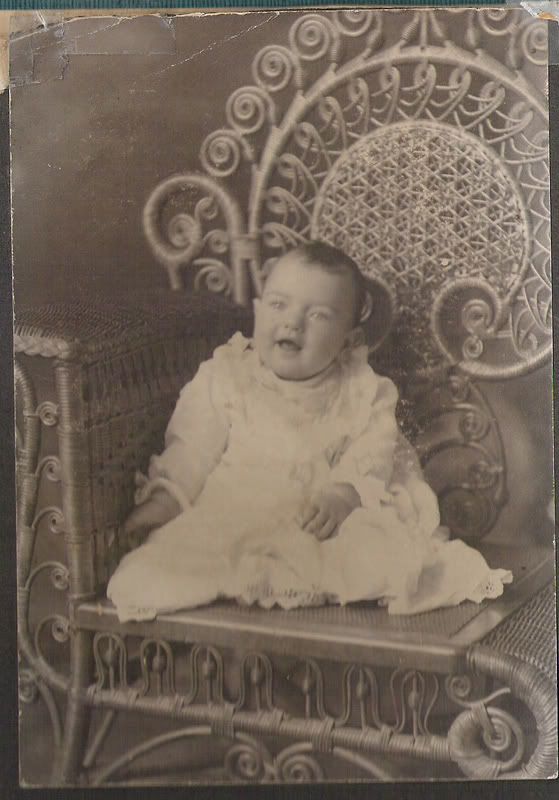 Losing Zelma must have been devastating, but that was just the beginning of bad times. They made the mistake of moving to eastern Colorado and were hit with the worst timing....the Great Depression, and the Dust Bowl Years on top of it. Gone were the years of affording nice baby portraits....as can be seen here by my dad's baby photo.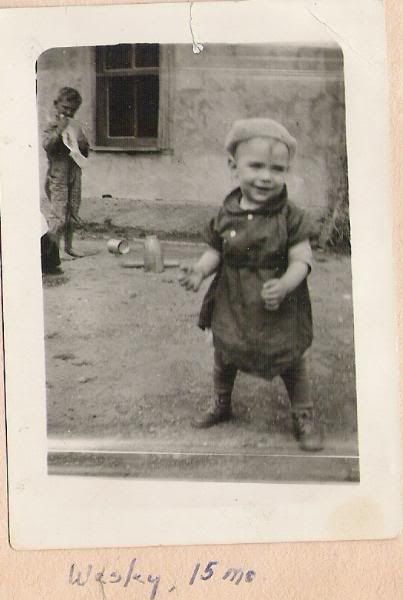 I can only imagine being a mother and trying to raise a family in those conditions. I'm sure it was a relief, and hardship, as her older children began marrying and moving away. Relief in that it was one less mouth to feed, but hardship in there goes one more pair of hands that used to help contribute to the work load. Add on top of that my grandfather's battle with cancer with expensive treatments and trips to Denver hospitals, and health problems brought on by the never-ending swirl of dirt known as the dust bowl. Both my grandmother and my dad's brother, Don, suffered from "dust pneumonia" which required stays in the hospital. As faded as this photo of my grandparents looks, it's the dust in the air that makes it looks washed out.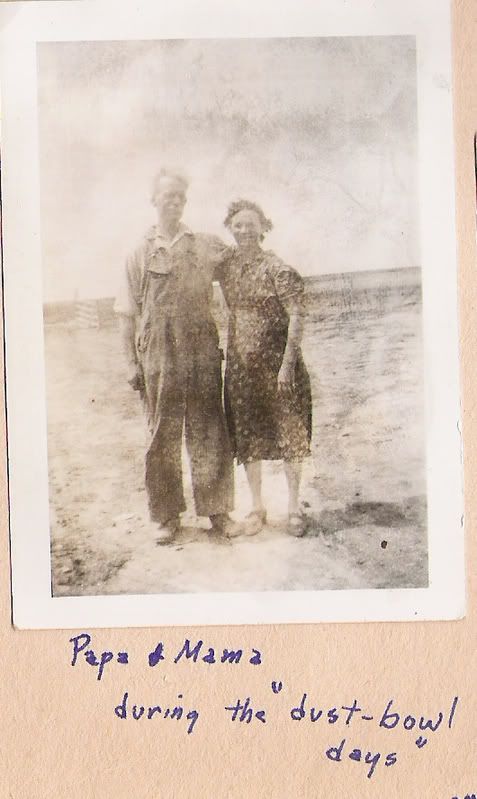 I remember my dad and aunts and uncles telling stories from those days, about how the isolation and poverty on the farm almost drove my grandmother insane, and they joked about how when there was nothing else to eat she served "paste." Flour mixed with water and a little sugar was breakfast, and flour mixed with water and a little salt was supper. I don't know how close to the truth the paste story was, but I'm sure it wasn't far. After my grandfather died, the remaining children at home all pitched in to help run things, including my dad dropping out of school at the beginning of 9th grade to help on the farm (he would go on to get his GED later on).
But for all the hardships, my dad and his siblings grew up to be some pretty fine folk with large families of their own. Except for dad of course, who only had little ol' me. ;)
My grandmother, who was always referred to as "Old Mom," died when I was just three years old, and so I only know her through photographs and stories. I wish I could have had the chance to really know her....what wisdom and memories and stories she could have told!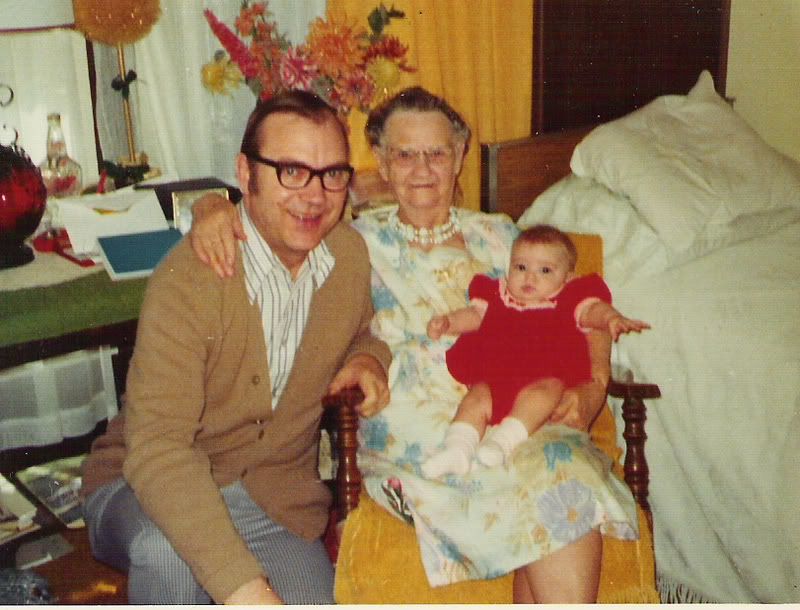 My dad, grandmother, and little ol' me in 1973
So to all of you mothers out there, whether you have 10 kids or 1, or even just "fur-kids" (like me), thank you for all you do!