I saw the coolest thing online today, so of course I have to share it. :)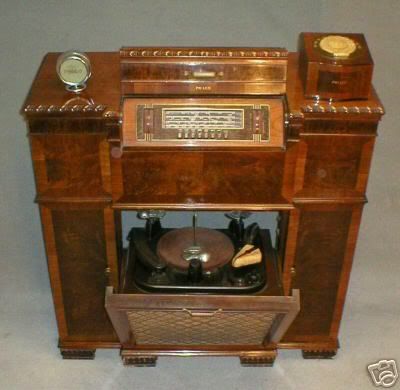 This is a 1941 Philco Beam Of Light Radio-Phonograph-Recorder with the first wireless remote...ever. The "Beam of Light" pickup didn't use the ordinary record-gouging steel-needle heavy pickups of the era, but a feather-weight sapphire attached to a small mirror, which deflected a beam of light to play the record: "This Close" to being a CD player. The arm on the left of the turntable is a cutting arm, to cut (record) your own record. How cool is that? (photo, info and video courtesy of
Cousin Hepcat of the Fedora Lounge
)
Here is a YouTube of this most fabulous piece of equipment in action (note the beam of light shining down on the vinyl in place of a needle:
It just fascinates me that this is so similar to our CD technology of today, yet this is from 1941. The mind boggles! Plus the wood casing is sooooo gorgeous....who could want a plastic piece of crap over this?
No, I'm not saying we should all give up our disc players and ipods.....but c'mon, you have to admit that is one fine looking piece of equipment!
On to cooking......sigh.
I am not a cook.
I would rather read a book.
If you want from scratch.....alas!

Be prepared for a kick in the ass!

OK, I'm not a poet. I'll leave that to my Husband. And I'm not *that* bad of a cook. I just don't like it. I guess more specifically, I don't like the cleaning up afterwards that must be done.....especially when we don't have a dishwasher. That said, I'm trying to get back to cooking more.....actual cooking, not just ripping open a bag of frozen stuff and heating it up. It's better for the pocketbook, better for our health, and better for the environment. If I can get myself into the habit of planning ahead and just doing it, I'll be alright.

There is one dish, though, that I pride myself on making well....chicken stew. Recipie? Here you go!
1 lb boneless skinless chicken breast, cubed
salt & pepper, to taste
1-2 tbls olive oil
3 stalks celery, sliced
1 onion, chopped
3 carrots, peeled and sliced
2 medium potatoes, chopped (can use 3 smaller ones) - you may peel if desired, but I usually leave the skins on
1 cup* chicken broth
1 tbls ketchup
1 tsp* dried thyme
1 tbls* cornstarch, for thickening
(for a budget friendly version, decrease amount of chicken and increase amount of potatoes used)
In a deep 12-inch skillet or dutch oven, cook chicken in olive oil over medium heat until no longer pink inside. Season chicken while cooking with salt and pepper to taste. Add celery and onion and saute for 3 minutes or until crisp-tender. Add carrots and potatoes and saute for 5 minutes.
In a separate bowl combine chicken broth, ketchup, thyme and cornstarch; whisk together until cornstarch is dissolved (*may need to add more broth, just have to "eye it". Can add more thyme according to taste; and add more cornstarch if a thicker stew is desired.)
Add broth mixture to chicken and veggies and bring to a boil. Reduce heat, cover, and simmer for 25-30 minutes, until potatoes and carrots are cooked through. Stir occasionally to avoid scorching.
If you try it, let me know how it turns out! This is one of my favorite meals to make.
And now, on to anniversaries! :)
Tuesday, November 24 is my parent's 57th wedding anniversary. Woo Hoo!!
They have the classic head-over-heels in love story:
In 1952, my dad, age 21, was stationed at Macdill Air Force Base in Tampa, Florida. Now, my dad was a country hick to the core, born and raised on various farms in Colorado and Nebraska throughout the Dust Bowl years of the Depression. Poor was his life.
My mom, age 22 in 1952, was from an upper middle class family in big city Tampa who wasn't touched much by the Depression....hence, she was somewhat of a socialite who was accustomed to having a cook and housekeeper. Well off was her life. (kinda sounds like the set up to Green Acre's, doesn't it?)
One night, their paths converged. They both happened to be at the same party. Dad, as a jazz musician, had brought his stand-up bass (in those days it was common to get together and "jam") and during a break had laid it on its side on the floor. Mom, in another room, was talking to someone as she was backing out of a doorway; not looking where she was going, she tripped over his bass. Luckily, no harm was done to the bass, it being over 150 years old (he still has it to this day), but one can imagine Mom's embarassment! After the party, Dad asked a mutual friend about "that crazy girl who tripped over my bass." In no time, a blind date was set up.
Now, Mom happened to be engaged to be married to another fellow at this point in the game. But, he was out of town, and she was bored, and figured she'd go on this blind date just to get a nice dinner out of the deal. She didn't even bother dressing up much, because she wasn't out to impress anyone.
Upon opening the door and seeing my Dad standing there in all his lean, 6'2 handsome glory, she immediately regretted not paying more attention to her wardrobe. As she tells it, she was swept off her feet from the moment she saw him.
He took her to a dancing club. Recognizing my Dad in the audience, the band leader coaxed my Dad on stage to sing a song. He sang "I Got It Bad, And That Ain't Good" and the entire time he was singing he kept his eyes on Mom. That pretty much sealed the deal, right then and there.
They were married 3 months later. :)
November 24, 1952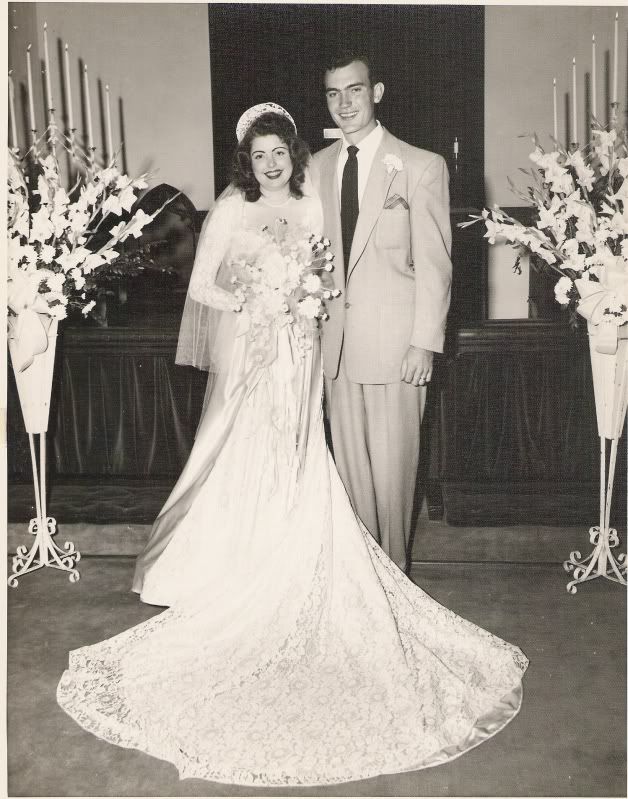 Enter Me......After being told for years that she couldn't have kids, and trying various routes to adopt to no success, they resigned themselves to being a childless couple. Until the summer of 1972 when Mom started feeling ill and feeling a growth in her stomach. She literally thought she had a cancerous growth.....it never dawned on them that she was pregnant after being told so often she couldn't have kids. When the doctor told her she didn't have cancer but was 5 months pregnant with lil' ol' me, you can imagine their shock and delight! She was 42 and Dad was 41....and having their first and only child. I was born on November 28, 1972.....20 years and 4 days after they were married. :)

Alas, that means that on Saturday I will be turning 37. Oy. Double Oy. And let's throw in a YIKES just for giggles.

But I couldn't have asked for cooler parents. [waves] Hi Dad! :) Dad reads my blog because I link it to my Facebook account. Of which he had a Facebook account before I even did, and he's 78. My Dad Rocks. :)

With Thanksgiving coming up, it's a busy week.....their anniversary, Turkey Day, and then my birthday. One small happy family!

So, my lovely readers, how will you be celebrating Thanksgiving this year?