First off, I just want to say Hi, and Thank You to all of you following my blog....I'm touched that so many are interested in my random word spewings! Each time I see I have a new follower my heart does a little leap of joy! :)
Making new friends, whether it's online or off, opens us up to new ideas, new perspectives, and new concepts that we might not have been exposed to otherwise. If one is
open
to new ideas, that is....for many years I wasn't. I had my narrow view of the world and refused to think - or even peek - outside the box. I didn't want to be troubled by having to think about anything challenging, see. Thank goodness that's all changed now!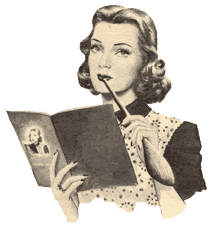 All that to lead up to what I really wanted to share....my newest tangent, if you will. Well, not really
new
....but something that's been building in the back of my head for months: the concept of buying local and supporting your locally-owned businesses instead of patronizing national chains.
Now, everyone has already heard for years about how and why Walmart and the concept of the "big box" store are evil and drive local stores out of business, etc. etc. But did you ever really stop and think about all of the ramifications such chains bring upon us as a whole? I never had, until recently. I looked at the issue on a surface level only and said, "Oh yes, I agree it's evil," and then went on about my business without altering my shopping habits.
50's Times
shared a link to a documentary called "Independent America" a couple from Canada made about the death of local businesses and "mom and pop" stores and restaurants in the U.S. and I have to say, it really opened my eyes in a way other information on the topic hadn't before.
Here is the
link
to watch the documentary on Hulu - it's about an hour long, but well worth it. I encourage you to make the time to watch it (I know many of you already follow 50's Times, but if you haven't watched this yet, please do!).
What's wrong with going to big box stores and chains? Well, I could rant my views until the cows come home, but I won't bore you with that. I have a feeling many of you probably already feel the same way as I, anyway. Besides, what could be more vintage in this day and age than making the conscious choice to patronize your local shops and restaurants instead of lining the pockets of CEOs a thousand miles away?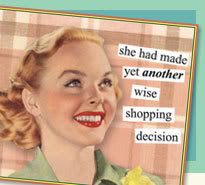 In that documentary, someone interviewed talked about the "10%" rule: if everyone made the conscious choice to make just 10% of their purchases at a locally owned business (and not a chain franchise simply owned by someone local), it would help out their communities economies immensely. I really like that idea, but I'm going to try and go beyond 10% as much as possible. Unfortunately, our finances right now won't allow me to completely eradicate all big box shopping; for example, buying a package of toilet paper at a grocery store versus buying it at a box store like Walmart has an astronomical price difference, with the box store coming out the victor, even if one uses coupons. And admittedly, shopping at a local grocery store will result in a higher total on the receipt than buying groceries at Walmart; one has to be practical about things when one's income is really,
really,
low
.....but one can also make changes in other areas to accomodate more local shopping, something I aim to do in this new year.
I've been attempting to cook more at home instead of eating out (and doing more cooking from scratch instead of relying on frozen convenience foods), but for times we do eat out I want to patronize a local restaurant instead of a chain. And if I want fast food - which will be less often as I lose more weight - I'll choose the "smaller" chains like Dairy Queen, Sonic, and Runza (a Nebraska regional chain). If we get bored from the places in town here, there's several small towns that are within a 15 minute drive that have some great places to eat. Here is a wonderful resource to help find local eateries, and celebrate mom and pop culture:
Roadside Online
. Also, when summer rolls around again, I'm going to take full advantage of my local farmer's market. I did a little bit this past summer, but not as much as I could have. I'm also going to buy more groceries at our local stores, and patronize K-Mart more for those dry-goods items like the above mentioned example of toilet paper. I know, K-Mart is still a big box store.....but it's a little less "evil' than Walmart.
On a different but similar vein of thought, this can even go beyond just local stores and restaurants....today Jessica at Chronically Vintage posted a
blog
about a new discovery she made of an indie magazine that focuses on quality not quantity. As magazines fold left and right, there's also a growing number of smaller independent magazines starting up that are catering to niche interests, but also are seeming to take into consideration the quality of the content, instead of regurgitating out the same information a dozen other publications has (not to mention the 80% of ads one has to wade through in those other mags). If you come across one of these indie mags and it's something that's right up your alley, do you part and support them!
On yet another tangent, last night Husband and I were discussing the newest electronic buzz gadget,
Kindle
, and the downside to this latest e-sensation. Loss of jobs due to printers and publishing houses closing. More bookstores closing - independent booksellers are already pretty much extinct thanks to box book stores like Borders and Barnes and Noble, and now even
they're
in trouble. Libraries becoming extinct. Potential monopoly on the book marketing business by Amazon, resulting in fewer options for readers and authors alike. One more piece of technology to make us dependent on! And while it may not be as obvious, I think this, too, ties in with how important it is to be conscious of the bigger picture and what consequences can come of our purchases....now don't get me wrong, technology and progress are good things....but not
all
of it.
It's my hope that these tough times are making people more mindful about how they spend money....not only for their pocketbooks, but also in looking at the big picture at the ramifications our purchases can make on our way of life if we don't take care. We, the consumers, must ask ourselves if our spending habits will make us pay a higher price further down the road....not just in dollars, but in the way our entire society runs. If we don't like what we're seeing, don't like things the way they are, it's up to us to take a stand and make the change, using our weapons of choice: our cash, checkbooks and debit cards.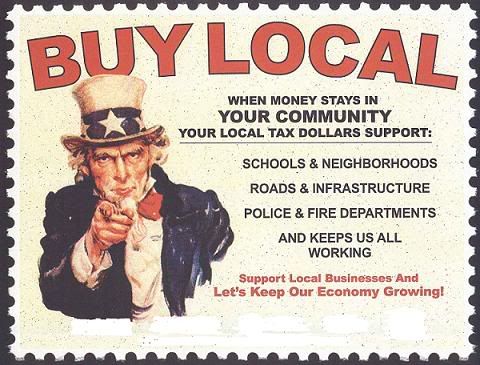 What about you, do you buy locally and support your independent stores and restaurants? With the biggest shopping time of the year upon us as Christmas approaches, and in this tough economy, are you purchasing more for less, or less for better quality? Which is more important to you? Share your thoughts!