For anyone who is just dying to know the answers to the Christmas Song Quiz from my last post, here they are! Stefanie and Emily came the closest to guessing all correctly, nice job ladies! :)
1. Sir Lancelot with laryngitis
(answer: Silent Night)
2. Decorate the entry-ways.
(Deck The Halls)
3. The smog-less bewitching hour arrived.
(It Came Upon A Midnight Clear)
4. The lad is a diminutive percussionist.
(Little Drummer Boy)
5. Exuberation to this orb.
(Joy To The World)
6. 288 Yuletide hours.
(12 Days of Christmas)
7. Do you perceive the same longitudinal pressure which stimulates my auditory sense organs.
(Do You Hear What I Hear)
8. The red-suited pa is due in this burg.
(Santa Clause Is Coming To Town)
9. Far back in a hay bin.
(Away In A Manger)
10. The apartment of 2 psychiatrists.
(The Nutcracker Suite)
11. ABCDEFGHIJKMNOPQRSTUVWXYZ
(Noel)
12. Present me naught but dual incisors for this festive Yuletide.
(All I Want For Christmas Is My Two Front Teeth)
13. That exiguous hamlet south of the holy city.
(Little Town Of Bethlehem)
14. Behold! I envisioned a trio of nautical vessels.
(I Saw Three Ships)
15. Listen, the winged heavenly messengers are proclaiming tunefully.
(Hark, The Herald Angel)
16. A joyful song relative to hollow metallic vessels which vibate and bring forth a ringing sound when struck.
(Carol Of The Bells)
17. Frozen precipitation commence.
(Let It Snow)
18. Boulder of the tinkling metal spheres
(Jingle Bell Rock)
19. Vehicular homicide was committed on dad's mom by a precipitous darling.
(Grandma Got Run Over By A Reindeer)
20. We are Kong, Lear, and Nat Cole.
(We Three Kings)
21. Our fervant hope is that you thoroughly enjoy your yuletide season.
(We Wish You A Merry Christmas)
22. Parent was observed osculating a red-coated unshaven teamster.
(I Saw Mommy Kissing Santa Clause)
23. May the Deity bestow an absence of fatique to mild male humans.
(God Rest Ye Merry Gentlemen)
24. Natal celebration devoid of color, rather albino, as a hallucinatory phenomenon for me.
I'm Dreaming of a (White Christmas)
25. Obese personification fabricated of compressed mounds of minute crystals.
(Frosty The Snowman)
26. Tranquility upon the terrestrial sphere.
(Peace On Earth)
27. Have hitherward the entire assembly of those who are loyal in their belief.
(Oh Come All Ye Faithful)
There you have it! How'd you do?
Today is Friday.....I just have to get through this day, and then Monday and Tuesday, then I'm off work for a glorious 12 days until January 4th. One of the perks of working for a university is getting lovely long holiday breaks. I've been spoiled by it....if I ever work anywhere else it's going to be a shock to the system to have to go back to work the day after Christmas!
As I do every year, I have a long list of things I want to accomplish during my time off. And every year, I usually fail to get any of them done. I give myself a couple of days at the beginning to be a lazy bum, with the intention of buckling down and getting to work later on......and then I'm looking at the last day of my break wondering where all the time went and mad at myself for wasting all that time. Maybe I need some of those martinis Kathryn is always talking about in her blog! ;)
One of those things on my to do list is playing with my new camera. Yes! We bought the Canon Powershot I blogged about....but I haven't had much of a chance to do anything with it yet other than take a few test shots. But even those few shots blew me away with their clarity, compared to my old camera. I can't wait to dig in and post some stuff I've been putting off simply because the pictures were too blurry to make out.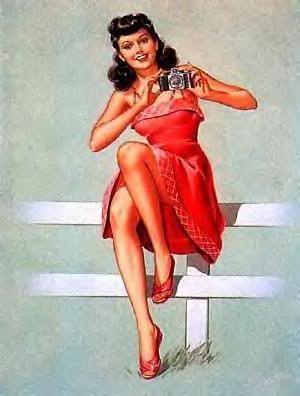 Something else I've been playing around with is making movies.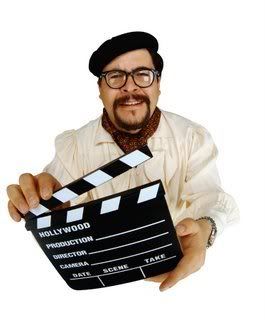 No no no, not that kind of movie.....just home videos I've shot of my dad playing at various gigs (he's a jazz musician) and random shots of our pets. I know how to upload them onto the computer using Windows Movie Maker, edit, and finish them off with credits and dissolves and such....it's actually quite fun to play around with! But what I want to do is take smaller clips and make YouTube videos of them.

Have any of you made YouTube clips before? I'm open to any and all advice!

Do you have all of your Christmas shopping done? Chop chop, 'tis only one week away! If you're needing some inspiration for gifts, stop by Jessica's
Chronically Vintage
blog for vintage and retro-inspired gift ideas. Also, Emma at
Emma's Music
just had a post asking for stocking stuffer ideas, and her readers came through with oodles of suggestions so be sure to stop by and check them out!
I suppose I should actually do some work, as that's what I'm being paid to do. Have a great weekend everyone!