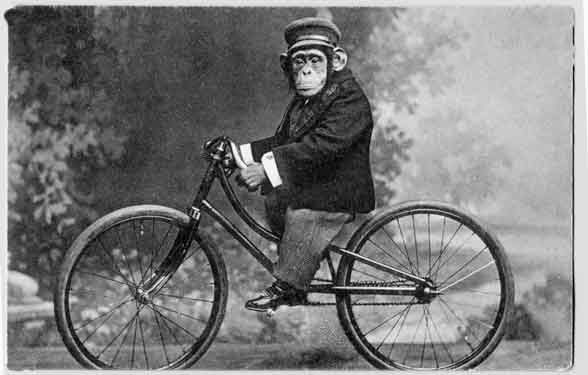 I bet now you're wondering if I've been hitting the eggnog a little early, right?

Nah. But I remember years ago watching MTV and vj (remember those?) Martha Quinn said that on the first day of the month, before you say anything else that day you should say "monkey, monkey, monkey" and it would bring you good luck all month. I don't know why that popped into my head this morning, but how's that for totally random useless trivia? :)

Ah, it's December 1st. Time to start thinking of Christmas decorations and presents and food. It's all about the food, of course! And just when I'm re-embarking on my weight loss journey, too.....this is going to be an interesting month!

I've been hitting the treadmill the last few days (yay me!) and last night I tried a minute of jogging at the end of my 30 minute walking session. Yowsa! If I hadn't already known I was overweight and out of shape, that would have opened my eyes for sure, heh. I'm glad no one could see me huffing and puffing away all sweaty and red-faced....but I'm determined to stick with it and continue to intersperse short bursts of jogging during the sessions to give a little extra oomph to the calorie burning. Makes sense to me, anyway.

I believe I must forward this on to 7 other fellow bloggers (and thank goodness there's no questions to answer,lol!):

1. Chronically Vintage

2. Born Too Late

3. Emma's Music

4. Grayscale

5. LaPetiteMort

6. Glamour Daze

7. Dad's Dish Retro Blog

I'll close with a rant. Our home computer got infected with malware viruses that were too massive for our [cough] outdated anti-virus software to handle so off to the computer doctor it went today. At the university I work at, our IT department will work on employees' personal computers, for a price of course. Still, it's cheaper than taking it somewhere else. We had the same thing happen a couple of years ago and were only charged $30.00. Good deal, eh? So I figured it would be around the same price again.

Nope! The new rate is.........$125.00. $30 to $125!? Yeah, my jaw dropped too. It needs to be done though, and I wasn't going to haul the heavy thing back out to my car to take elsewhere so $125 it is. Sigh. So much for that new digital camera for Christmas.....unless Husband takes pity on me [wink, wink, nudge, nudge]. He he he....love you honey! [bats eyelashes]

Anywho....all you fabulous bloggers out there: make sure your anti-virus and anti-spyware software is up to date and working properly.....and see you on the other side!

*edited to add: I've been having problems with some of the blogs I follow not showing up in the blog updates on my dashboard....so if I haven't stopped by your place lately it isn't from lack of want! Hopefully Blogger will get it figured out soon....ugh! I couldn't live without the internet but sometimes I just hate all the hassle computers give us!